EMOTIONAL INTELLIGENCE ASSESSMENTS
As a leader, do you motivate and engage your employees so they go the extra mile?
As an employee, can you make tough decisions under stress?
Do you successfully establish solid relationships with your coworkers, colleagues and clients?
In this competitive business climate, professionals want to work for executives and managers who know them as individuals and team members: that is, leaders who balance guiding the team with professionally developing each employee.

Did you know emotional intelligence (EQ) is a more accurate predictor of workplace success than IQ?
The good news is that emotional intelligence is a combination of skillsets we can learn, unlike set personality traits with which we're born. We can always improve our EQ to improve our workplace culture, leadership skills and team-building efforts.
SO, WHAT'S EMOTIONAL INTELLIGENCE?
EQ is a set of emotional and social skills that influence the way we perceive and express ourselves, develop and maintain social relationships, cope with challenges, and use emotional information in an effective and meaningful way.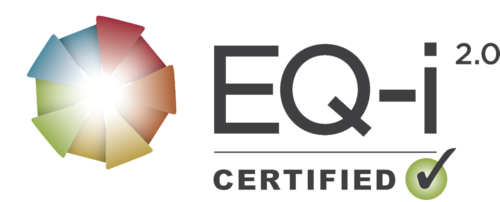 MAKE YOUR PERSONALITY WORK FOR YOU AT WORK
WHY IS EQ IMPORTANT?
While emotional intelligence isn't the sole predictor of human performance and development potential, it's proven to be a key indicator in these areas. Emotional intelligence isn't static – your EQ changes over time and can be developed in targeted areas.
Every member of your organization needs EQ skills to improve the company's overall efficiency, and individual team members' sense of accomplishment and satisfaction.
THERE'S A SCIENTIFIC APPROACH TO TALENT DEVELOPMENT
For almost 20 years, consultants and organizations have trusted the science underpinning the EQ-i 2.0® (and its predecessor EQ-i 1.0) model to help improve "people performance."
EQ-i 2.0 is a psychometric assessment measuring emotional intelligence and how it impacts people in the workplace. It's the first scientifically validated measure of EQ, coupled with research from premier organizations, so you can rely on EQ-i 2.0 to add robustness and accuracy to your talent-management initiatives.
Based on the original Bar-On EQ-i authored by Dr. Reuven Bar-On (© 2011 Multi-Health Systems Inc.), the EQ-i 2.0 model employs a 1-5-15 factor structure: one overarching EQ score broken down into five composite scores measuring five distinct aspects of emotional and social functioning: self-perception, self- expression, interpersonal, decision-making and stress management. These break down into 16 subscales.
CAN I ALSO USE EQ-i DURING THE HIRING PROCESS?
Yes, the EQ-i assessment is useful during talent selection. We have data on how star performance and success in different industries and professions correlates with specific skills in the EQ-i model.
Moore Relationships can administer an EQ-i assessment to your candidates during the talent-selection process to help you determine the top candidates who fit your emotional intelligence criteria the closest.
WHAT' S THE EQ-i 2.0 ASSESSMENT?
A psychometric assessment measuring emotional intelligence (EQ) and how it impacts people and the workplace
The first scientifically validated measure of EQ, providing a tool to add robustness and accuracy to your talent-management initiatives
Boasts a proven track record of more than 20 years.
EQ-i has been successfully used by certified professionals like Moore Relationships for:
Talent identification and selection
Talent-management accuracy
Leadership development
Team building
"Problem Personality Trait" identification for targeted development opportunities.
HOW DOES THE EQ-i ASSESSMENT WORK?
EQ-i 2.0 measures the interaction between a person and his or her environment. Assessing and evaluating a person's emotional intelligence can help establish the need for targeted development programs and measures. This, in turn, leads to dramatic increases in manager and employee performance, interaction with others and leadership potential..
The EQ assessment process is simple, and the results are confidential. Moore Relationships administers the assessment to employees via an online link to the EQ-i portal. Then, each person takes the 133-question, 30-minute assessment on their own computer, in the comfort of their office environment.
WHAT HAPPENS DURING THE ASSESSMENT DEBRIEF?
After each manager and employee takes the EQ-i assessment, Moore Relationships meets with each person individually for 60 to 90 minutes to review their custom 21-page results report and develop an action plan for improvement, either in person or over the phone. The action plan can be a springboard for executive coaching, leadership development or tram building.
We understand different clients have different needs, so we don't use a one-size-fits all approach. Each program and meeting is customized to your organization's needs, taking into account personal vision, mission statement and talent-development goals.
Moore Relationships also works with employees in a group format to help them collaboratively digest their confidential results. Group exercises in teams and pairs can help participants gain hands-on experience of the EQ subscales.
Pricing is based on size of group/number of individuals being assessed, as well as frequency for those who choose to use this tool as a regular employee on-boarding practice and touchpoint support package.